Get How To Brew FREE with AHA Membership
Join the American Homebrewers Association for one year and get a free book of your choice*. Select from more than 60 qualifying Brewers Publications books, including How to Brew by John Palmer.
---
How To Brew: Everything You Need to Know to Brew Great Beer Every Time by John Palmer is the definitive guide to making quality beers at home.
Whether you want simple, surefire instructions for making your first beer, or you're a seasoned homebrewer working with all-grain batches, this book has something for you. Palmer adeptly covers the full range of brewing possibilities―accurately, clearly and simply.
From ingredients and methods to recipes and equipment for brewing beer at home, How To Brew is loaded with valuable information on brewing techniques and recipe formulation.
What's New in the Fourth Edition?
The completely revised and updated edition of How To Brew includes:
---
What People Are Saying
Owning How To Brew is like having a brewmaster as your best friend. In the 30-plus years since the American craft beer revolution got its start, countless brewing books have appeared. None, however, has achieved the status of How To Brew, which is thorough, comprehensive, and beautifully organized. And now, this new expanded and enhanced edition improves on the original. It's a considerable feat to create a book that is invaluable both to first-time brewers and professional brewmasters, but John has done it with a book that is essential for everyone who is serious about brewing.
Jim Koch
Founder & Brewer of Samuel Adams
About the Author
John Palmer
How To Brew author John Palmer was born and raised in Midland, Michigan. He is author of the bestseller How To Brew: Everything You Need to Know to Brew Beer Right the First Time, co-author of both Brewing Classic Styles and Water: A Comprehensive Guide for Brewers.
A passion for science and a desire to work in the space program led John to Michigan Tech where he graduated with a degree in metallurgical engineering. A lucky break gave him the opportunity to apply for a metallurgical position at a failure analysis lab in Irvine, California, and he has been living in the LA area ever since. During this time he has helped design, build, and inspect hardware that is currently flying on the International Space Station, worked in research and development of orthodontic appliances, and written three popular books on the brewing of beer.
Additional Info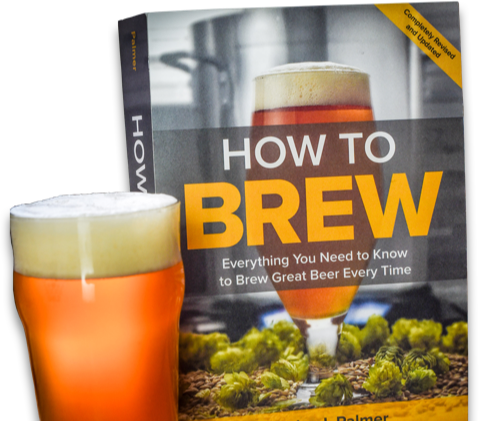 Quantity discounts are available to qualified wholesalers. Email info@brewersassociation.org for more information.
Author: John Palmer
Pages: 608
Dimensions: 9.9 x 7.1 x 0.8 inches
ISBN: 978-1938469350, 1938469356