Completely revised and updated, How To Brew: Everything You Need to Know to Brew Great Beer Every Time by John Palmer is the definitive guide to making quality beers at home.
Whether you want simple, surefire instructions for making your first beer, or you're a seasoned homebrewer working with all-grain batches, this book has something for you. Palmer adeptly covers the full range of brewing possibilities―accurately, clearly and simply.
From ingredients and methods to recipes and equipment for brewing beer at home, How to Brew is loaded with valuable information on brewing techniques and recipe formulation.
Buy Now
Table of Contents
Brewing Your First Batch of Beer
Cleaning and Sanitizing
Malt and Malt Extract
Brewing with Beer Kits and Extracts
Hops
Yeast and Fermentation
Yeast Management
Water for Extract Brewing
Brewing with a Full-Volume Boil
Priming, Bottling, and Kegging
How to Brew Lager Beer
Brewing Strong Beers
Brewing with Fruits, Vegetables, and Spices
Brewing Sour Beers
Understanding Malted Barley and Adjuncts
How the Mash Works
The Methods of Mashing
Extraction and Yield: Or What to Expect from Your Mash
Getting the Wort Out (Lautering)
Brewing Your First All-Grain Batch
Residual Alkalinity, Malt Acidity, and Mash pH
Adjusting Water for Style: Famous Brewing Waters and Their Beers
Some of My Favorite Beer Styles and Recipes
Developing Your Own Recipes
Is My Beer Ruined?
Appendices (A-I)
Bibliography
Index
What's New in the Fourth Edition?
The completely revised and updated edition of How to Brew includes:
More emphasis on the top five priorities: sanitation, fermentation temperature control, proper yeast management, the boil and the recipe
Five NEW CHAPTERS covering brewing, strong beers, fruit beers, sour beers, adjusting water for style
All other chapters revised and expanded: new charts, graphs, equations and visuals; expanded information on using beer kits; expanded tables of recommended times and temperatures for single-infusion, multiple-step, and decoction mashing; complete revision of infusion and decoction equations; and updated information on yeast: pitching, starters, growth factors and maturation cycle
What People are Saying
Owning How to Brew is like having a brewmaster as your best friend. In the 30-plus years since the American craft beer revolution got its start, countless brewing books have appeared. None, however, has achieved the status of How to Brew, which is thorough, comprehensive, and beautifully organized. And now, this new expanded and enhanced edition improves on the original. It's a considerable feat to create a book that is invaluable both to first-time brewers and professional brewmasters, but John has done it with a book that is essential for everyone who is serious about brewing.

Jim Koch
Founder & Brewer of Samuel Adams
Additional Info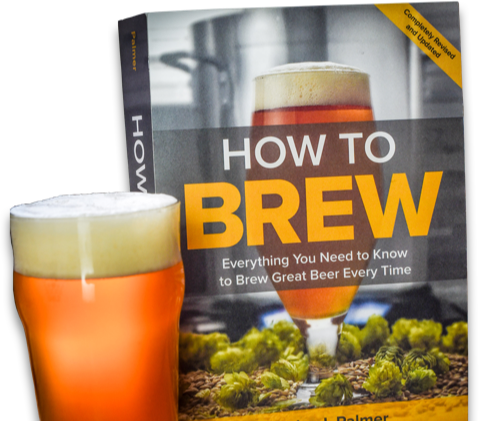 Quantity discounts are available to qualified wholesalers. Email info@brewersassociation.org for more information.
Author: John Palmer
Pages: 608
Dimensions: 9.9 x 7.1 x 0.8 inches
ISBN: 978-1938469350, 1938469356