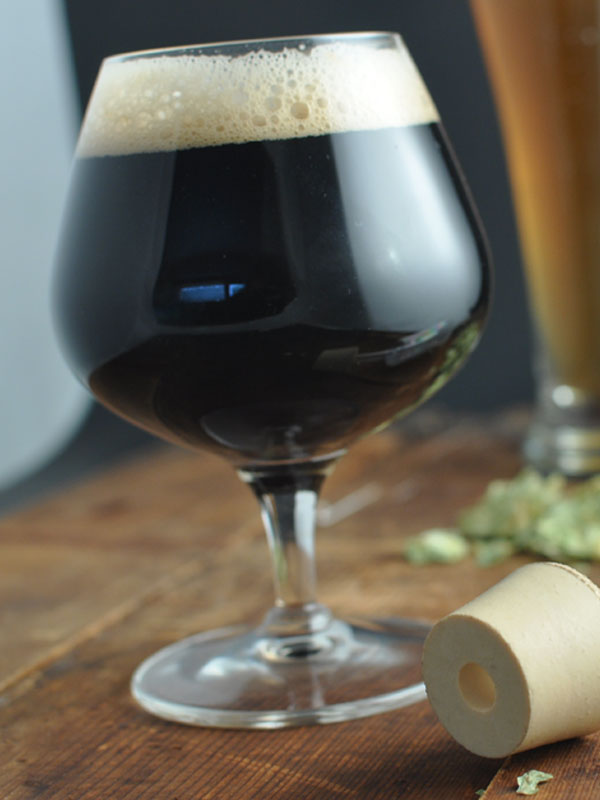 Chris O'Brien, former part-owner of Seven Bridges Organic Homebrew Supply, does whatever he can to reduce his carbon footprint. He believes that homebrewing is an excellent way for beer drinkers to save the planet if you take the right steps to be sure you aren't overusing your resources. From collecting rainwater for cleaning to reusing glass bottles, his goal is to reduce waste in pursuit of a zero-waste homebrew process.
Try this homebrew recipe for a robust porter made entirely with organic malts and juniper berries. Depending on where you live, you might even be able to harvest your own juniper berries!
This recipe was originally featured in the March/April 2005 issue of Zymurgy magazine. Join the American Homebrewers Association to access all Zymurgy issues dating to 2000!
Ingredients
For 5.5 gallons (19 L)
4.4 lb. (2 kg ) organic pale malt extract
2 lb. (0.9 kg) Hugh Baird pale two-row organic malt
1 lb. (0.45 kg) Briess Organic Munich malt
0.75 lb. (340 g) Briess Organic caramel 60°L malt
0.75 lb. (340 g) Briess Organic chocolate malt
0.5 oz. (14 g) New Zealand Pacific Gem organic hops, 31 IBU (60 min.)
0.25 oz. (7 g) New Zealand Hallertauer organic hops, 7 IBU (60 min.)
0.75 oz. (21 g) New Zealand Hallertauer organic hops (0 min.)
1.0 oz. (28 g) organic juniper berries
White Labs English Ale liquid yeast
1 cup (237 mL) organic malt extract
0.25 tsp. (1 g) Irish moss
2 tsp. (10 mL) gypsum
Specifications
Original Gravity: 1.059
Final Gravity: 1.015
ABV: 5.7%
IBU: 38
Boil Time: 60 minutes
Directions
Mash all grains at 152°F (67°C) in 1.75 gallons (6.6 L) of water. Sparge with 1.25 gallons (4.7 L) water. Add the extract to the collected wort, top up with enough water to make 5.5 gallons (20.8 L) of liquid, and bring to a boil. Add 0.5 oz. (14 g) NZ pacific Gem and 0.75 oz. (21 g) NZ Hallertauer and boil for 60 minutes. Add 0.75 oz. (21 g) NZ Hallertauer, Irish moss, and juniper berries. Turn off heat. Rest for 10 minutes and have a homebrew.
Chill wort to 70°F (21°C) and transfer to primary. Pitch the yeast and ferment for up to a week at 65 to 70°F (18 to 21°C). Transfer to secondary and ferment for another one to two weeks. Bottle the beer, and condition in the bottle for one to three weeks. This beer improves for up to a year. The cedary flavors of the juniper berries mellow slightly but become more complex. Tastes like the smell of sitting around a cedar campfire.