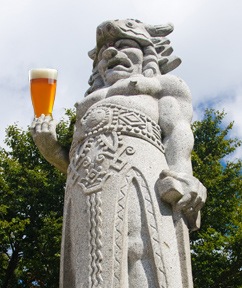 Congratulations to the first ever Radegast Club of the Year award winner, The Carolina BrewMasters! The North Carolina-based club takes community education and outreach to another level through their charitable services and event planning. Read more about The Carolina BrewMasters and get some ideas for your club!
A great homebrew club does many things in addition to brewing. These clubs also focus on experimenting, learning, education and volunteer work. Exceptional clubs work hard make an impact on their community.
The Radegast Club of the Year Award, named for the Slavic god of hospitality and the creator of beer, is an achievement not obtained through competition, but an award won for doing great things. The award will be given once a year and announced at the American Homebrewers Association (AHA) National Homebrewers Conference.
Award Criteria
To win this award, AHA-registered clubs have to show what activities set them apart as an awesome group in their community.
Brewdays, festivals, demonstrations or charity, we want to hear about anything that makes you a proud member of your homebrew club. The club that receives the honor of Radegast Club of the Year will receive an award to display and a stipend for their chosen charity.
How to Enter
Entry form submissions for the Radegast Club of the Year Award are due by March 31, 2015. The submission form collects contact information for a club representative and offers the opportunity to upload resources that prove your club's worthiness. If your club has an annual report, slide show, video, song, website or anything that demonstrates its awesomeness, be sure to include it in your submission. If you need help with the form or have questions, please contact us.
Entries will be reviewed and voted on by an impartial panel of judges from the AHA Governing Committee. Remember, the award will be announced at the 2015 National Homebrewers Conference!
PHOTO © SHUTERSTOCK