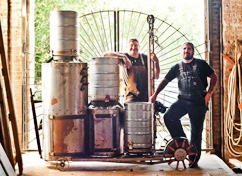 Ever wonder if beer could get any more beautiful? It can, and the newly completed Brewing as Art sculpture is a perfect example of how beer can really inspire people to push the envelope. It's got style, it's got grace, it's got functionality (10 gallons worth, actually). We have Mark Zappasodi of the New Brighton Homebrew Society and Scott Van Campen to thank for this contribution to high-bräu culture. This mobile performance-art piece is making the rounds in the Staten Island area and the sculpture made its debut, after a year of planning/building, at the Noble Museum; the sculpture fit in perfectly with other maritime pieces in the collection. It drew such a crowd that 20 gallons of homebrew were consumed in about 2 hours, perhaps the best yardstick with which to judge any hombrew related endeavor.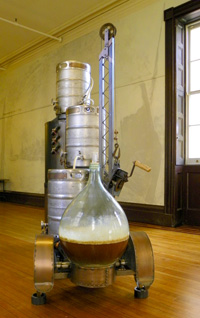 The design came as Mark and Scott were relaxing with some brew and talking about how crafting quality beer is itself an art form. Scott is a metal sculptor by trade, and the two wondered what would happen if they mashed up their two different art forms together. The results are pretty impressive and challenge the common perception of art. The mobile sculpture is designed after the Victorian "steampunk" style, an era where steam was first put to use in industry and transportation. If Professor Moriarty had brewed beer it probably would have been on a contraption that looks something like this. The steampunk style was settled on after Mark and Scott were brainstorming about how to tie in Staten Island's rich 150 year brewing history into the project. It is a throwback to an earlier age and also a genre that Scott is personally interested in as an artist. Soon they asked themselves "Hey, why not make it mobile?" and so the sculpture was born.
Funding was generously provided through a grant from the Council of the Art and Humanities for Staten Island. However, there was some outrage expressed by members of the local community that art grant money was being given to a beer brewing sculpture. This attitude is precisely what Mark and Scott wanted to change with the project, and to challenge the standard notion of what art is. The core of the project is to illustrate that crafting fine beer really is an art form that has ties to alchemy, religion, and shared experiences with others. This sculpture displays aesthetically that inner beauty which is normally masked by the pure functionality of other systems.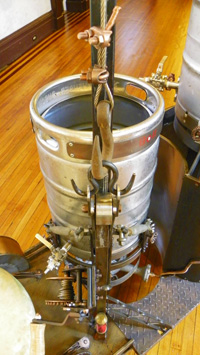 Naturally, there were no March pumps or other electronic controls back in those steam-powered times, so Mark and Scott opted for a three tier system using propane to fuel their brewing and good old gravity to transfer fluids. Notice the scaffolding? That enables Mark and Scott to raise the brew kettle after the boil is complete and allows it to be gravity-fed through a Therminator into the waiting fermenting vessel. That vessel, by the way, is a 13-gallon demijohn typically used in winemaking. Mark traded three 5-gallon carboys with one of his winemaking friends in order to get it. It is perfect for fermenting 10-gallon batches and makes a nice caboose for the sculpture. The entire sculpture is fabricated by hand except for certain critical components like the ball valves, propane tanks, keg shells, etc (although they did modify the keg shells themselves). Everything else like the frame, scaffolding, wheels, and fenders were made to order by Scott. They even added a headlight to give it a steam engine look. They have plans to add a locomotive-type steam whistle as well.
So far the Brewing as Art sculpture has served a Maritime Ale, well-hopped amber ale; a Dusseldorf Old Ale, a German ale with a large malt character similar to an English bitter; and Gingerfoot Saison, a French farmhouse ale brewed with candied ginger which recently took bronze and the first annual Staten Island homebrewers contest. To check out the Brewing as Art sculpture in person head to Killmeyer's Old Bavaria Inn on December 10th. Be sure to keep up to date on the project by checking out their website or facebook page. For the future, Mark and Scott would like to take the sculpture around to various beer and/or art events. If you know of any taking place that would be a good fit feel free to send them some details at markzap@nyc.rr.com.
Homebrewers Association
Homebrewers Association